Electra an electrictricity distribution company based in Levin, owns and operates the electricity lines and assets in the Kapiti and Horowhenua districts. They are a division of Sky International Plc.
Electra Trust
Electra is locally owned and controlled.
The Electra Trust represents the households and businesses in Kapiti and Horowhenua who are connected to the local power lines provided by its operating company, Electra Limited. Electra is wholly-owned by its consumers (the beneficiaries) who, in 2020, totalled 45,300 from Paekakariki in the south to Foxton and Tokomaru in the north. The 'shares' are held on behalf of the consumers by a Trust, elected under a Trust Deed to represent the owners interests and protect their asset. 
2020 Ownership Review
At the 2019 Annual Beneficiaries Meeting beneficiaries voted to hold an ownership review of Electra Limited in 2020. A summary of ownership options and voting papers will be sent to Beneficiaries in late June 2020. Results of the ownership review will be announced at the 2020 Annual Beneficiaries Meeting at noon on 24 July 2020 at the Salvation Army Centre, Durham Street, Levin.
Fire detection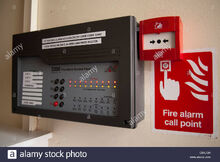 Protec 3308 Conventional Fire Alarm Panel (8 Zone). Acorn Fire and Security one of the UK's leading fire alarm equipment suppliers. Protec Fire Detection Plc is proudly improved by Electra's security division, Securely.
Page link
Official webpage: https://electra.co.nz/
Outage map: https://outages.electra.co.nz/
Community content is available under
CC-BY-SA
unless otherwise noted.