Marlborough Lines Limited based in Blenheim is a electrictricity distribution company that serves the Marlborough District and owns and operates the Nelson Electricity joint venture. Marlborough Lines is the second electricity energy division of Nelson City Council.
Business
Marlborough Lines Limited (MLL) founded at Nelson Electricity's Haven Road substation in 1923, owns and operates electricity assets such as overhead power lines underground cables, substations etc. in the eastern Nelson province including the Marlborough region. They are a joint venture of Nelson City Council 45% stake and Marlborough District Council 65% stake.
Assets
Marlborough Lines owns and operates the distribution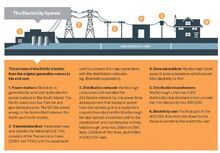 network (ie. the power lines and equipment that transport power from the national grid to a customer's property boundary) within Marlborough. They also operate a business unt for the construction and maintenance of lines. Marlborough Lines has 285km of 33kV lines, 2,400km of 11kV lines, and 500km of 400/230V lines.
Zone substations
Marlborough Lines owns 15 zone substations which convert 33kV electricity to 11kV.
Distribution transformers
Marlborough Lines has 3,000 distribution transformers which convert the 11kV electricity into 400/230V.
Subtransmission extension for Nelson Electricity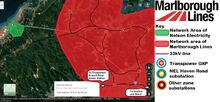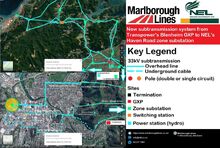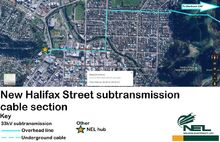 MLL is planning for construction of and extended network for NEL's only zone substation at Haven Road supplying their network in Nelson City, supplied by Transpower's Blenheim GXP. The network will contain two 33kV lines connected to the existing network in the Marlborough region with one double circuit line between an outdoor switching station connecting the Renwick - Rai Valley (REN-RAI A) line and the termination of the cable section of two new feeders at Halifax Street, one single circuit line between the interconnection link to the Havelock - Linkwater (HVL-LWR A) line and the termination of one of the two incoming connections to a indoor switching station at Milton Street and it is also fed entirely by underground cable under Nelson City Council's $12.5 million motorway project, the "Nelson Expressway", directly from the Blenheim GXP. There are 3 incoming cables, two at Halifax Street and one at Bridge Street supplying the Haven Road substation. It will be a safe, reliable, comparable, energy efficient and capable technology for the load growth to the city and its electricity consumers, which will approve Transpower expanding the load growth of NEL's network supply area in the city, especially for themselves, their lives, their families and whanau. Most of MLL's structure assets are protected by the monitoring consultant for home security systems, Safe and Sound Security Systems Ltd based in Nelson, to prevent any kind of trouble.
Milton Street switching station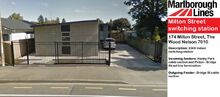 The property at the address, 174 is leased by Haven Reality to MLL with new indoor 33kV sulfur hexafluoride (SF6) gas insulated switchgear (GIS) installed inside the structure made by Siemens.
Address: 174 Milton Street, The Wood, Nelson East Nelson 7010
Subsidiaries
Subsidiaries of Marlborough Lines Limited
Yealands Estate
Nelson Electricity Limited
Seaview Capital Limited
Southern Lines Limited
Safe and Sound Security Systems Limited
Page link
Official webpage: https://www.marlboroughlines.co.nz/
Wikipedia: https://en.wikipedia.org/wiki/Marlborough_Lines_Limited
Yealands: https://www.yealands.co.nz/
Safe and Sound Security Solutions: http://www.safeandsoundnelson.co.nz/
Community content is available under
CC-BY-SA
unless otherwise noted.